31st. Jul, 2010 | 07:31 pm

I baked these a while ago for someone's birthday, but the photos were on my housemate's camera. I'm pretty proud of myself for these! Of course, they're all vegan, even the marshmallows, and there's no hydrogenated oil or high fructose corn syrup in any of them, either.
Hot chocolate inspired cake.
Chocolate cake, chocolate frosting filling and sides, covered in chocolate ganache, topped with Dandies vegan marshmallows, more ganache and chocoalte and vanilla frosting decorations.
Banana split inspired cake.
Banana cake sandwiched with vanilla frosting, strawberry jam, and topped with chocolate frosting, ganache, vanilla frosting swirls, dried banana chips and Newman O's.



Chocolate cherry cream cake.


Chocolate cake sandwiched together with vanilla frosting and cherry preserves, covered with chocolate ganache and decorated with vanilla frosting and cherries.



Carrot cake.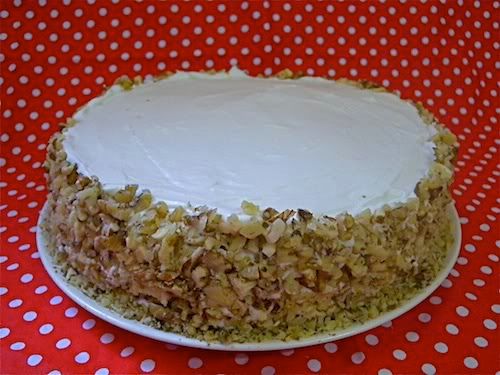 Light carrot cake covered with cream cheese frosting, decorated with chopped walnuts.
(
Cut for more photos.
Collapse
)
Cross posted all over the place.
12th. Feb, 2010 | 07:47 am

I was very excited for Phil to come and stay with us for a couple of days, but even more so when he decided that we should make an over the top cake of death. We toyed with the idea of a chocolate/coffee or chocolate/mint combination, but neither of those would have gone down too well with the other housemates, so we decided on a
banana split cake
. The mission was to make it as decadent as we could manage without veering too far from the theme, and I think we did ourselves pretty proud! We didn't finish until around 2am last night, so we're yet to try it. I think it'll be our breakfast.
(
And a step by step guide to each layer.
Collapse
)
There was supposed to be a bag of Dandies incorporated into it as well, but I think we got a bad bag because they were grainy and really dense, so not up to standard. They'll see out their days in a hot chocolate, no doubt.
There will most likely be another cakeshake later on as well. OH THAT'S RIGHT.
7th. Jul, 2009 | 05:20 pm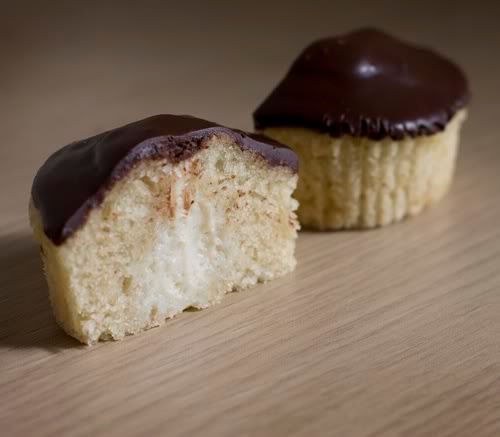 Photos courtesy of my amazing brother
At long last, I finally had all of the ingredients I needed to make some of the more 'fancy' cakes from Vegan Cupcakes Take Over the World. I chose the Brooklyn vs Boston Cream Pie Cupcakes in particular partly out of excitement for my upcoming trip and partly because I love filled cupcakes, but I didn't realise quite how many stages there would be! I seem to have lost my piping bag, so filling them using a sandwich bag got incredibly messy and I gave up after having filled only 5. I also wasn't originally impressed with the taste of the filling as it tasted a little too much of soy for my liking, however I'm seriously regretting this now as once it's inside the cupcakes, it tastes absolutely gorgeous! These cupcakes require a fair of effort, but are totally worth it in the end.